F.A.Q.
Please click on the links below to view the FAQ answers.
How safe am I when i visit?
Safety is Paramount, please take time to have a look at the testimonials from people either who have visited me and or I have worked with in the professional spanking industry.

how much do you charge for a session?
I don't charge; watching the reactions of different women laid across my knee being spanked is compelling.
Do you use a safeword?
I have never had to use one and never had one requested but yes if you feel it is necessary although it does undermine submission.

How hard do you discipline?
I will vet your requirements and limits to make judgements during play which can be at all levels.

Can I have a chaperone?
Absolutely Not this is the one-to-one session.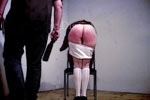 Can I wear jeans or trousers?
No!! I demand you to be dressed in a feminine manner skirt and blouse or dress, petticoats and white feminine underwear.

I would like to dress up and role-play?
Yes absolutely if it's a genuine school uniform,50s housewife etc. it certainly edges a great dynamic to the session.
Will I be able to sit afterwards?
No of course not you would've been so soundly spanked you won't be able to sit properly for at least a week; in reality, you will be fine but a quite definite reminder and subservience.
I do not want any sexual contact.
Generally, I would say no, no sexual contact, although I may change my mind at the end of the session, and you may continue your subservience on your knees to complete a blow job and swallow before a further spanking and wanking.
What if I become sexually aroused after the session?
I appreciate spanking can become sexually charged, but I only provide a discipline service. You will have to tend to yourself when you get home.